To keep track of the things I want, I've made a wish list so that I can organize the things I wanna buy and it would be easier for me to remember them. Since it's the start of "BER" months, I think it's time to make the list and check on it twice. So here it goes:
1.)
EOS lip balm
:
They're totally cute! I'm so obssessed on getting hands of these egg-shaped babies. (Coz I got these na!!! )
2.)
Hunger Games bookset by Suzanne Collins
:
I'm dying to own these incredible books; it's heart-throbbing and fast paced storyline! Besides that, it will be shown on the theater this coming December. Cross-fingers that it would be a great adaptation.
3.)
Maybelline Instant Age Rewind Double Face Perfector concealer
: I want to try this out since its pro is 2 in 1 product (concealer + highlighter).
4.)
Mac Blot pressed powder
: It's a bit pricey for me, though I still wanna purchase it to set up my makeup and get rid of the oilyness on my face.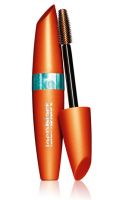 5.)
CoverGirl LashBlast waterproof mascara
: I've read so many raves about this mascara, it said that it gives you a more dramatic lash look, it's definitely on my list.
So that's it maybe. Till next time.